To register or pay on your account please visit
our online portal:
Registration is open for the 2017-18 School Year!
Make sure to register early to ensure your preferred days
District Programs:
Williamsville School District Grand Island Central School District
AM Programs start at 7:00am:

Casey Middle, Transit Middle

Country Parkway, & Maple West

PM Programs end at 6:00pm:

Country Parkway

Dodge

Forest

Heim

Maple East

Maple West

AM Program starts at 7:00am:

Located at Huth Elementary - serves Huth, Sidway, and Kaegebein Students

PM Programs end at 6:00pm:

at all three elementary schools
Cheektowaga Central at Union East

Before and After School Programs:





AM program starts at 7:00 - 8:45am
Grades: PK4-8th

PM program starts at dissmissal through 5:30pm
→Optional extension through 6:00pm; grades K-8th


Enrichment/Recreation Programs:

SS. Peter and Paul Catholic School

in Hamburg, New York

St. Mary's School

in Swormville, New York

Charter School of Inquiry

Buffalo NY

Buffalo Academy of Science Charter School

Buffalo NY
Cheektowaga Sloan at Theodore Roosevelt
Elementary School
*****NEW PROGRAM!!******

AM Program starts at 7:00am:
Located at: Theodore Roosevelt Elementary School
Serving: Roosevelt, Woodrow Willson &
John F. Kennedy Middle School
PM program starts at dismissal
through 6:00pm
Please note:
Promissory emails will not be considered an entry and spots will not be held.
Private School Programs:
Register for Break Camps
(Camp runs 7:30 AM-5:30 PM daily)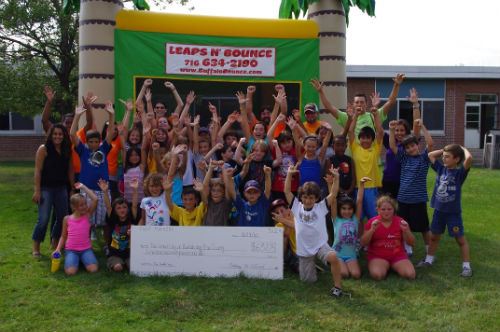 "Ms. Janelle is not only really, really nice but always plays games, makes crafts and hangs out with us. I loved last fall when she helped us make giant leaf piles and let us jump in them!"
- Alexa P, Student, Maple East Elementary