Featured News - Current News - Archived News - News Categories
New York State Senate Honors Just for Kids
by Marketingintern
Wed, Feb 24th 2016 01:00 pm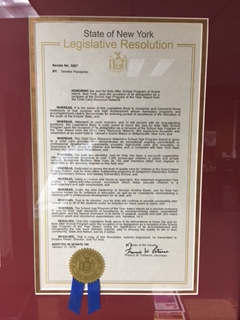 Just for Kids in Williamsville receives New York State Senate Recognition
Williamsville, NY (February 17, 2016) - Just for Kids, a Williamsville-based nonprofit organization providing morning and afternoon enrichment programs at 15 schools in Western New York,was recently honored by the New York State Senate in Legislative Resolution J3267, after being named School Age Program of the Year for its dedication to raising the level of quality care and education in its program. The resolution, sponsored by Senator Marc Panepinto was adopted on January 21, 2016.
The Legislative Resolution states "That this Legislative Body pause in its deliberations to honor the Just for Kids Program upon the occasion of its designation as a recipient of the School Age Program of the Year Award, noting the significance of its accomplishment and recognizing the role such effective schools play in shaping the quality of life in their community, State, and Nation."
The 2015 School Age Program of the Year is awarded to an organization which serves children ages five to 12; demonstrates an ongoing commitment to professional development; consistently provides high quality early care and education; is responsive to the needs of children and families; and is compliant with New York State School Age Child Care Regulations. Just for Kids was selected from the 103 other providers in Western New York.
In addition to 12 other locations, Just for Kids Grand Island currently offers a morning and afternoon program at Huth Elementary School and afternoon programs at Kaegebein Elementary School and Sidway Elementary School.
Just for Kids currently provides before and after-school enrichment programs to more than 1,000 school age children including the Williamsville Central School District, Cheektowaga Central School District, as well as select private schools, and has more than 150 staff members, most of whom hold degrees in education or are pursuing degrees. Besides offering before and after-school programs, Just for Kids also offers break camps and summer day camps. The nonprofit has been providing services in Western New York for over 20 years.
To read the Legislative Resolution in its entirety, click here.