Our Program
Enriching Purposeful Engaging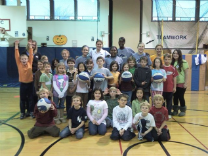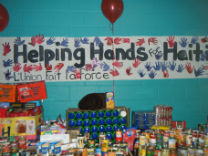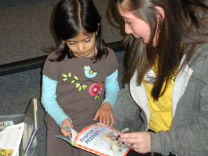 Kids College hosted UB Bulls Kids Care - Canned Food Drive Pages for Pizza - Literacy Program
A typical School Year program day starts with students joining us at our home base— the cafeteria, where each student is greeted and signed in. Before school programs allow children to ease into their day, work in small groups with staff, blending self-directed activities with group games and sports, and squeezing in any last minute homework!
After school programs allow kids to rotate enrichment and Themed activities with Fine Arts Teachers, Sports Coordinators, outdoor play, social skills, team work challenges, and kids' choice activities. At least monthly, each program hosts special guests through our Kids College, and all students participate with Kids Care activities.
Individuals, teams, and businesses from the Western New York community donate their time to provide enrichment activities for the kids.
Our staff support and guide, helping with planning, organization, and fun incentives, such as our Pages for Pizza initiative with Campobello's (Williamsville), Brick Oven (Grand Island), Blaze Pizza (Amherst), and Chick 'N Pizza (Cheektowaga), which compliments academic time.