JOIN OUR TEAM!
https://www.justforkidsonline.org/job-openings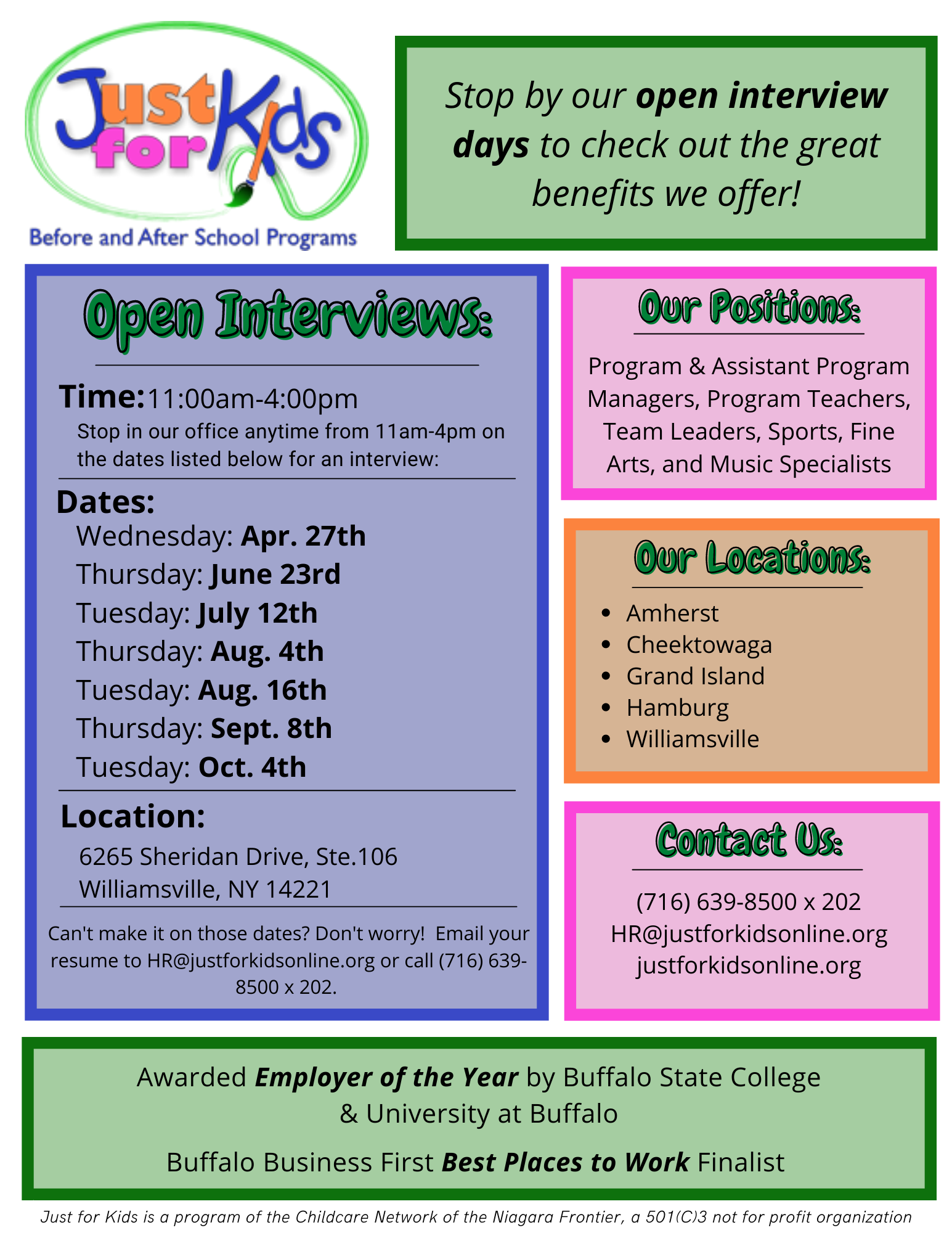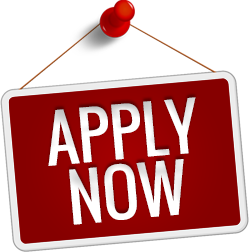 See below for additional program information!
---
At Just for Kids, our employees have a passion for working with today's youth!
Awarded "Employer of the Year" by both Buffalo State and University at Buffalo, our staff consist of College Students majoring in Education, Art, Counseling, Social Work, and Physical Education, and more. Certified Teachers and Retired Teachers round out our team.
All staff receive a variety of background checks, including fingerprinting, references, and state-required documents. All staff receive a variety of training opportunities throughout the year, both "in-house" and from outside agencies.
Our staff work hard at providing the kids with fun, educational and engaging activities in a safe and nurturing setting, acting as good role models while they "give back" to the WNY community. This provides children with the fundamental skills they need, and helps individuals develop and grow as professionals.
Benefits: because we value our Staff
Just for Kids provides benefits and competitive wages:
Health Care and Medical Insurance
Performance, Attendance & Referral Bonuses
Ongoing Staff Recognition
Professional Resources and Training
Advancement Opportunities
Team Building Opportunities
Employee Discounts on Childcare - 100% tuition discount for School Age children attending our programs!
Discounts at local Buffalo businesses including:
BAC For Women
BikeorBar
Butterfly Wishes Photography
Liberty Travel
Queen City Escape Room
Six Flags Darien Lake
West Herr
---
What Sets Us Apart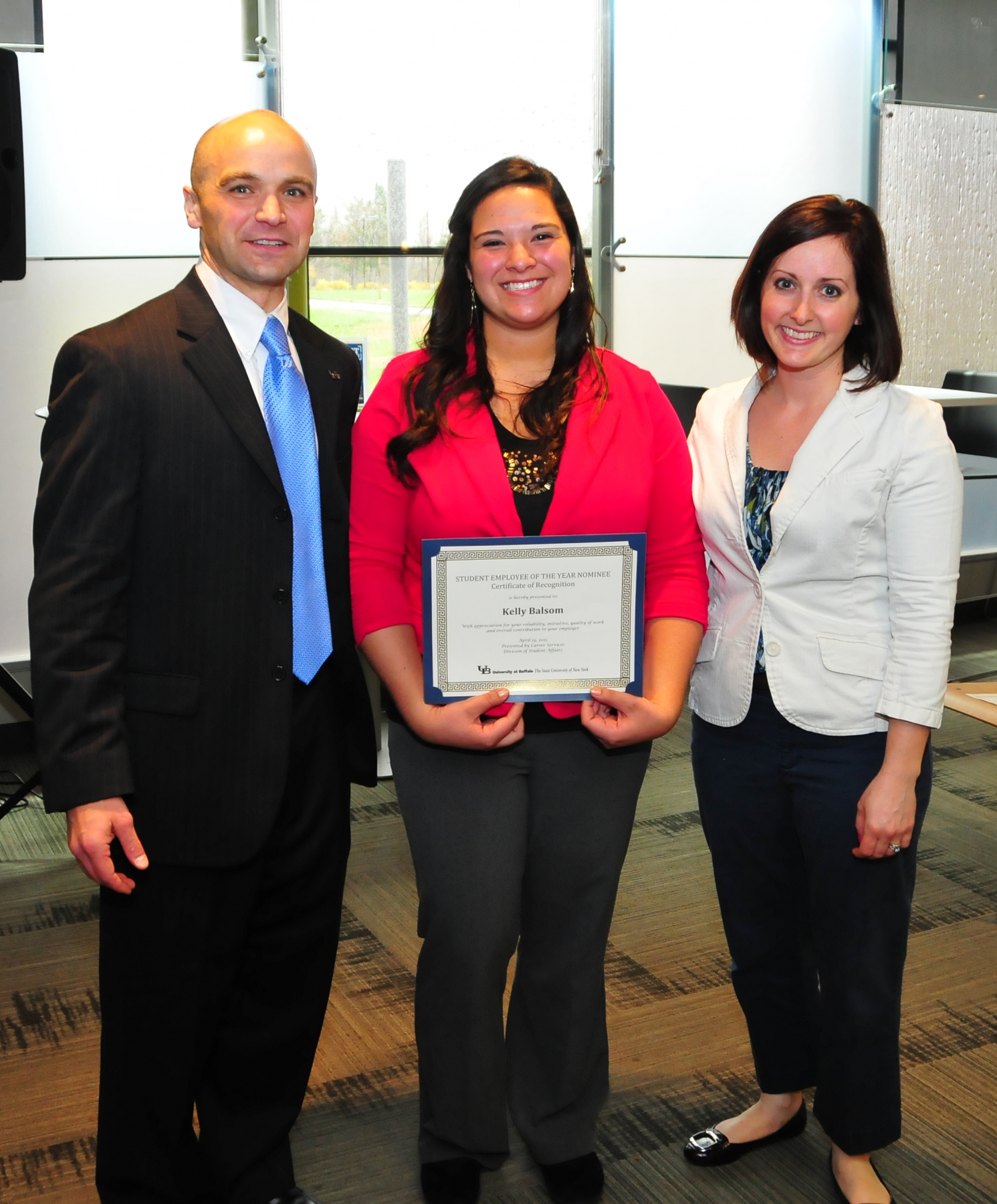 Employer of the Year - Buffalo State (2012) & University at Buffalo (2015)
Buffalo Business First - Best Places to Work Finalist (2015)
University at Buffalo Nonprofit Internship Site of the Year (2015)
Child Care Resource Network - Child Care Provider of the Year (2015)
(Photo: UB Student Employee of the Year Finalist, "Miss Kelly" Balsom, (center) Team Leader at Just for Kids Country Parkway)
---
What Our Staff Have to Say:
"Before working at Just for Kids, I was struggling to find a teaching job,but then I found this job. The most important part of my professional growth would be managing the kids, creating fun and engaging activities, learn how to manage staff, and communicate with parents. This job has taught me a great deal and will prepare me for the future, when there are more teaching jobs, but until then, I'd like to stay at Just for Kids for a long time."
-Current JFK Staff
"In the past year the most important part of my professional development has been gaining more responsibility through my work. When I first started I was given minimum work and walked through the process, but now I am trusted to do things on my own and have much more responsibility."
-Current JFK Staff
---
What the Kids have to say:
"My counselor, Miss D., helps me every day with my homework assignments. She helps explain the hard to do math problems. She is kind and takes the time to make sure I get it! Plus I have fun doing all the great arts and crafts."
- Mary P., 5th Grade Student, Heim Middle
---
Volunteering and Internship Opportunities
Available internships for the upcoming Semester:
Volunteers: accepted following reference review, background clearances, and an interview. Please submit regular application above.